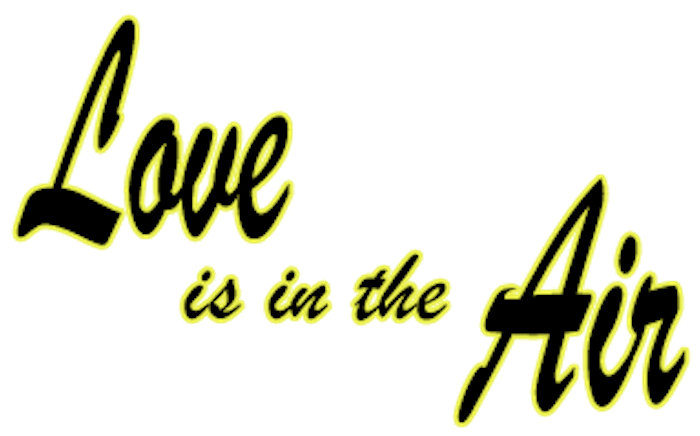 - What is love imagined to be?
- Can we capture the true nature of love?
- How can/ are the symbols of love used?
- How can your process and application reflect love?
- When is your work a reflection of self love?
Best in Show: Emma Eichorn
Selected Artists: Matthew Cuschieri, Wallace Dibble, Drew Dodge, Anlan Huang, Tiger Rocha, Mia Scarpa, Augustina Wang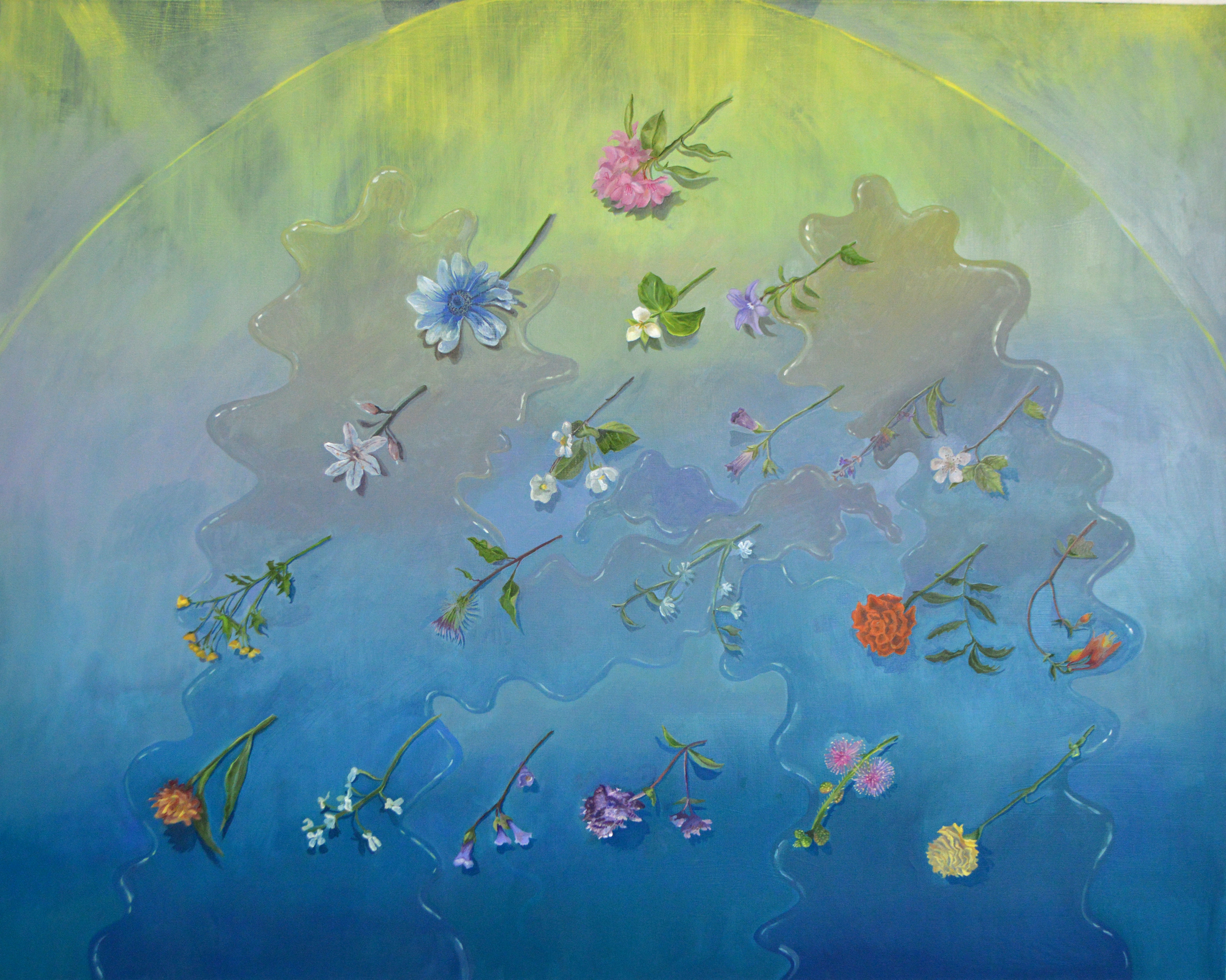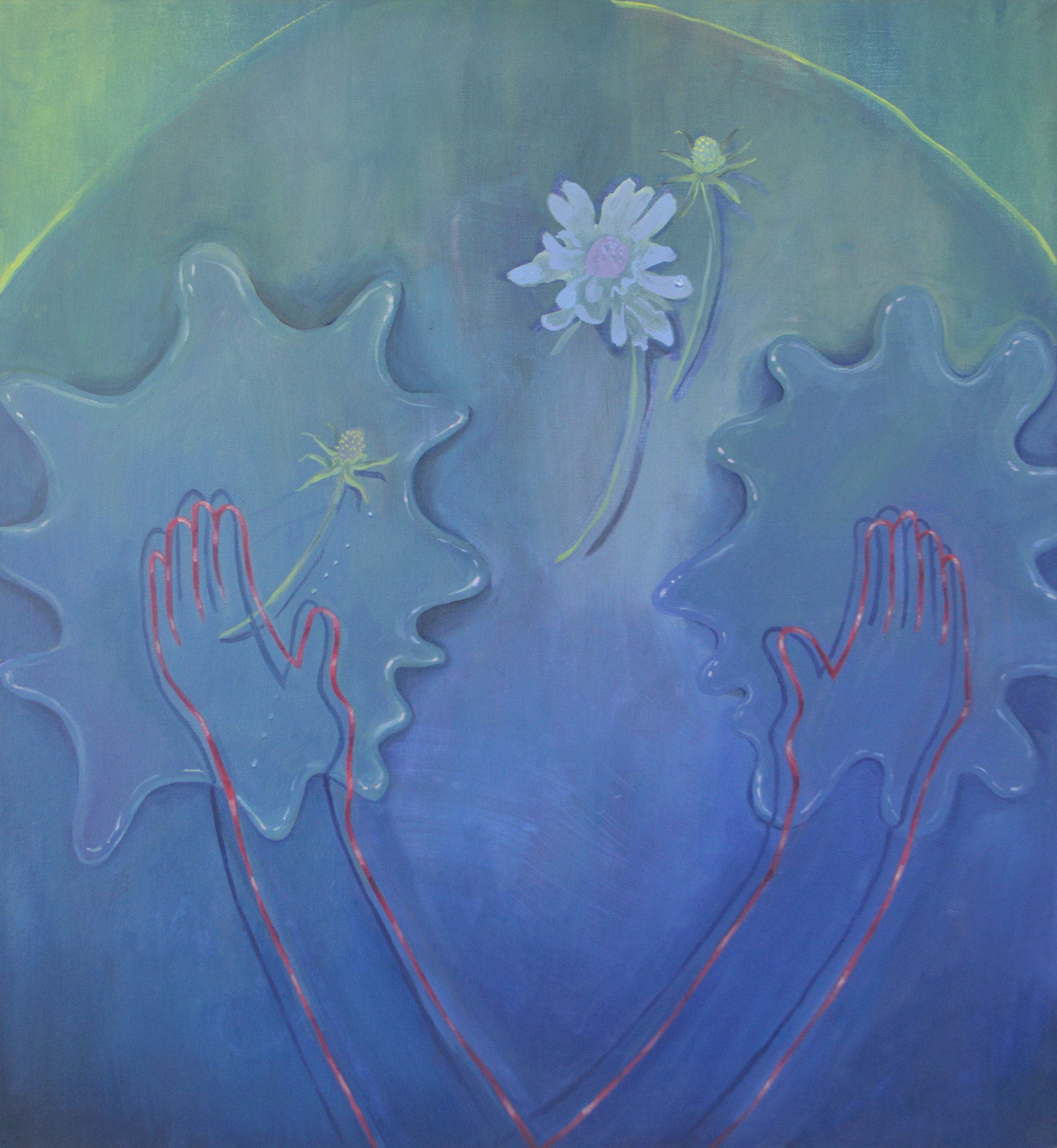 A Sweet and Unfortunate Attachment
, 2020
Oil and Acrylic on Canvas
>> I am interested in the amplification of silence and incident. In the small moments of stillness between people. These are the moments that often get dismissed. But they are full, full with emotional tension; moments of awkwardness, of uneasy, of familiarity and nuance. These are the moments of love. The figures in my work, if figures you can call them, demand our attention. Yet they are silent and secretive. We witness the familiarity of a gesture of intimacy but we see the shape of the emotion only, the contents are unavailable to us. We are the intruder.
💗💗💗💗💗​​​​​​​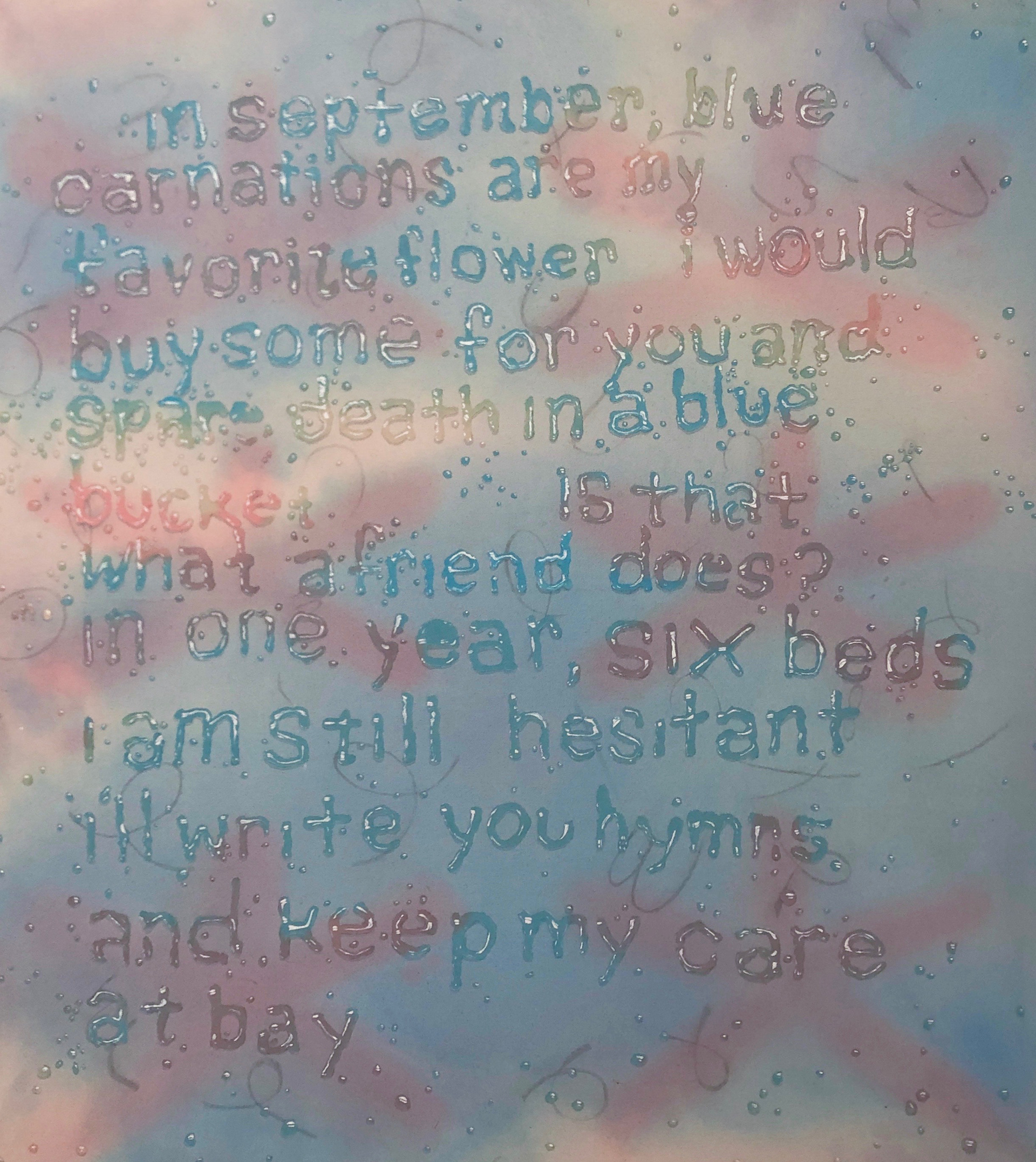 Note from September
, 2020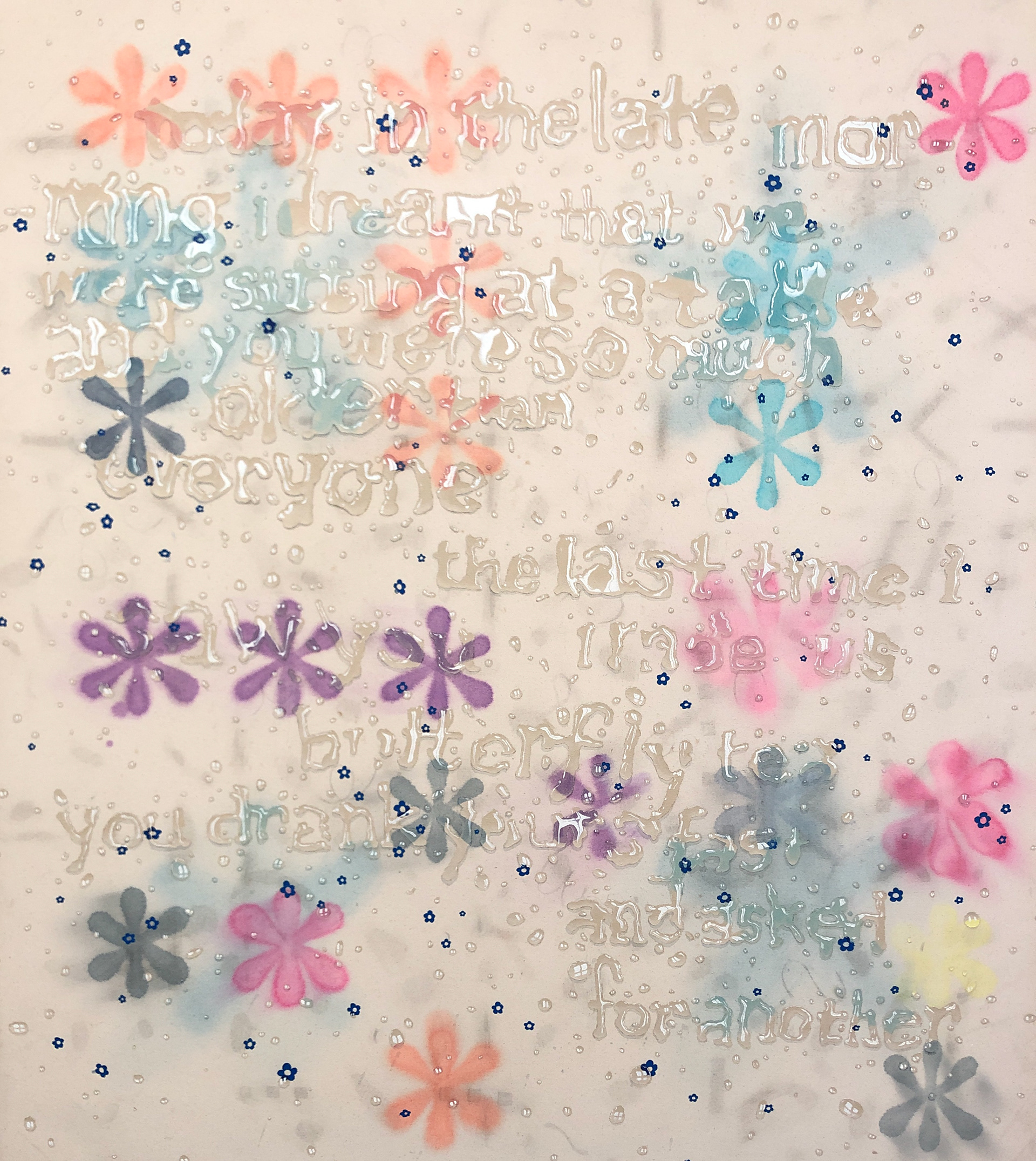 >> Wallace is a painter based in Providence. Currently she is in the process of drafting letters never to be sent.
>> I've made a playlist of 100 love songs that lasts 6hrs and 19 min. In each is pain, lust, empathy, ecstasy, devotion. The oldest song was released in 1964, the most recent was released in May. Regardless of each loves survival I am listening to them all at once as if each of the 100 love iterations still exist. Love songs are records of the ephemeral and a love playlist, an archive of feeling. An effort to capture love is nothing less than the work of a historian.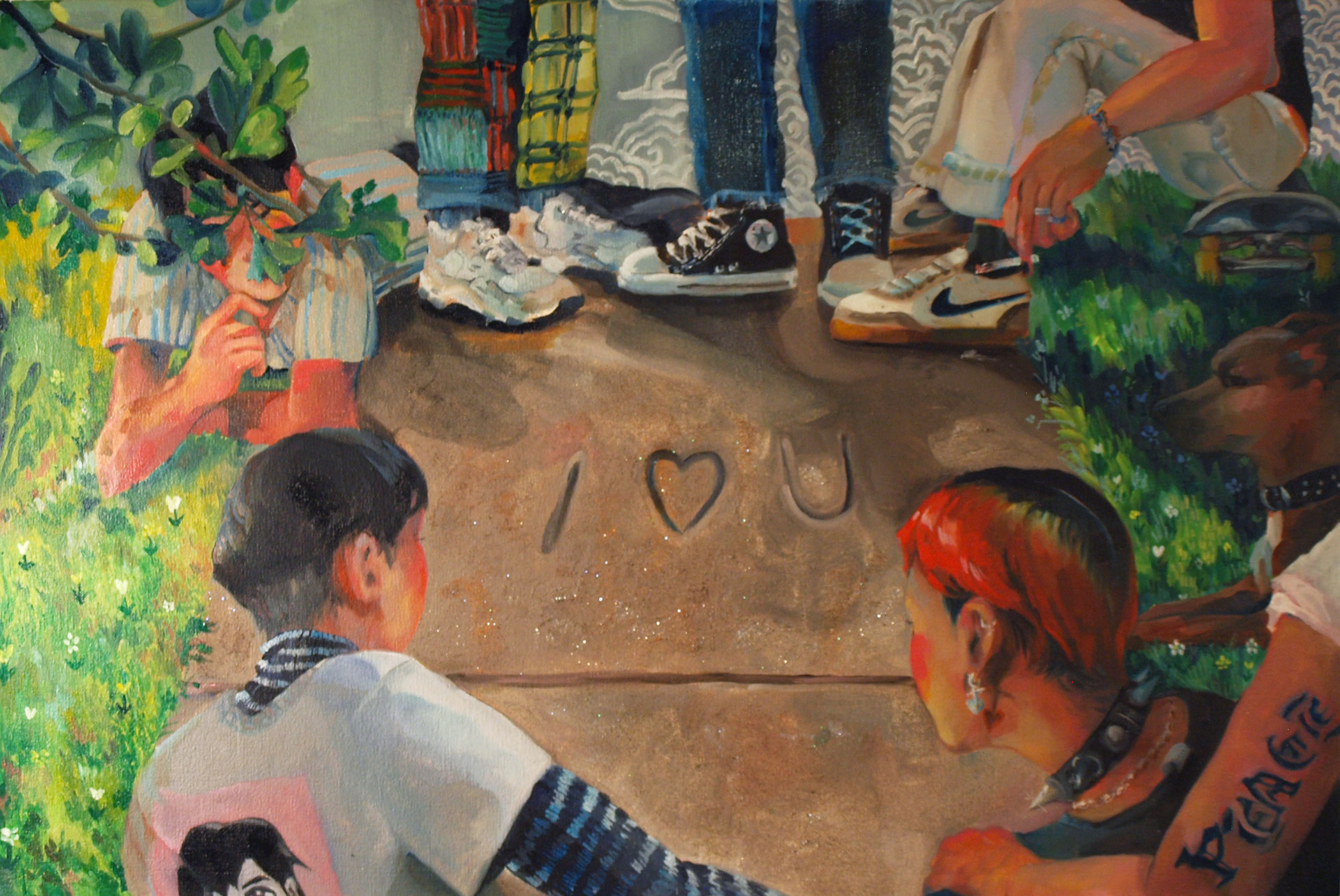 Oil and Glitter on Canvas
This painting reflects an imaginary utopia I've built through trauma and solitude, a world where men (boys?) are unconditionally loving and forgiving.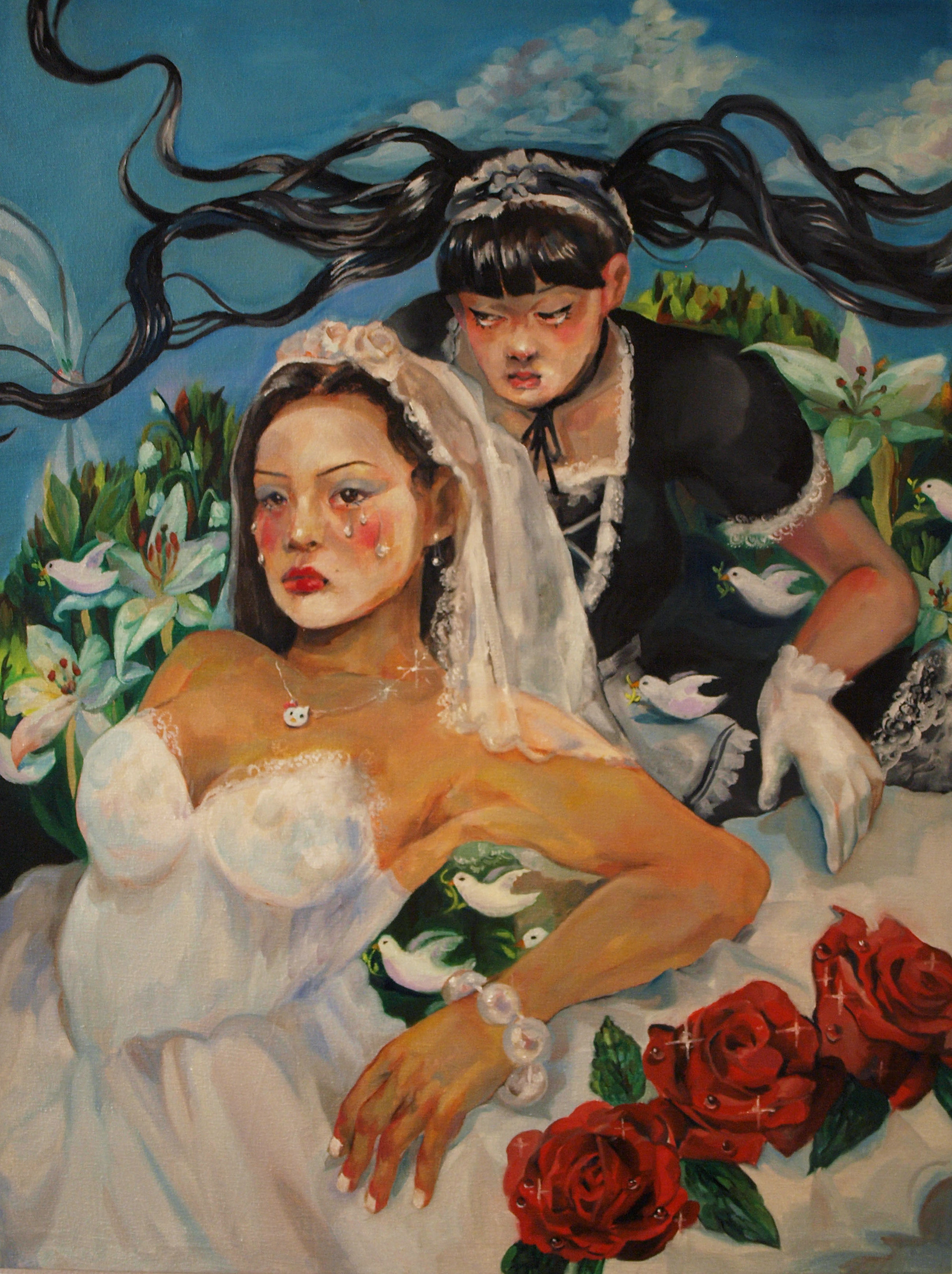 The Ideal Bride and Wedding Portrait
, 2020
Despite in utopia-- in the nuclear bright blue sky, green leaves, small doves and red roses, I still try to remember the cruel reality that this fantasy is born out of. I try to examine asian femininity through the lens of weeaboo culture and waifudom. Hence the angel-like lolita maid girl caressing the real Asian bride, whose face is painted white and who most likely doesn't like her groom.
>> My work is focused on world-building a utopia where I explore Asian femininity and unconditional love. It's a form of escape for me, as a way to cope from sexual trauma, abuse, and solitude from the pandemic. My paintings are space where I can imagine a better world, yet still pay a sad homage to the circumstances that created that world in the first place.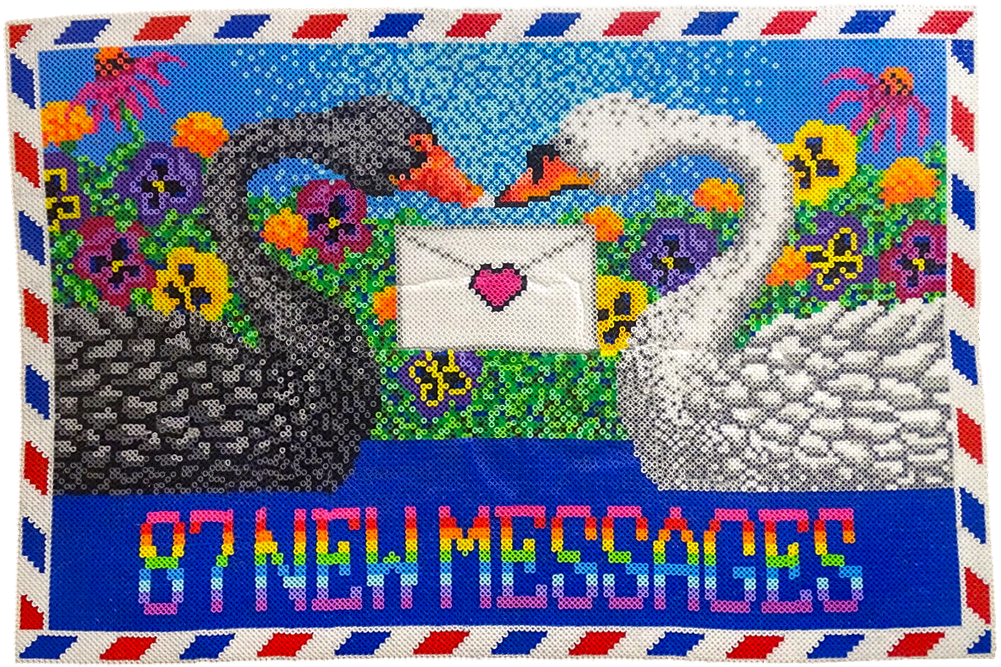 Fuse beads mounted on wooden panel
Love Interface is a rendering of a low quality (116 x 174 pixel) image where each fuse bead represents one pixel. This hand-operated, non-automatic picture sources 20,184 fuse beads total.
>> Drew Dodge is an interdisciplinary artist working in video, sculpture, and painting based in Providence, Rhode Island. He investigates digital intimacy, sexuality, and memory as he combines digital realms with physical objects, exploring the sensitivities of the human body. He obscures communication and studies online sociality by extruding beloved scatological detritus from the bowels of the Internet into the eyes of his audience. His work is rooted in naive internet experiences, childhood desires, cultural production, prank, and the plasticity of genericized consumerism.
💗💗💗💗💗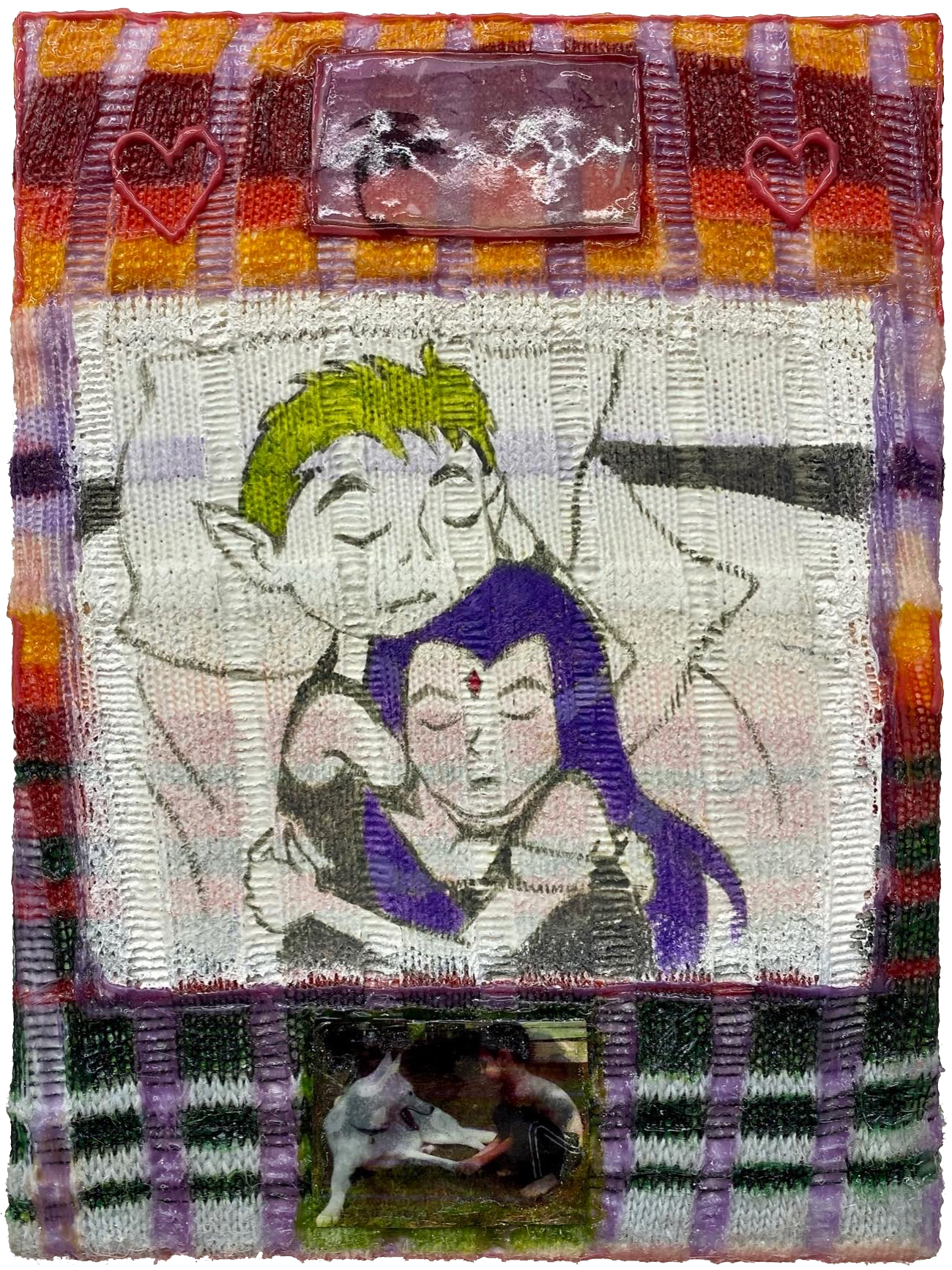 Friend Love Painting
, 2020
>> My work explores the relational distinction between art & craft and the inherent hierarchical value given to the word "Art", while "craft" holds a different & often lesser connotation. The work is very material-based & I focus on things such as detail-work (in relation to craft), humor, decoration/ornamentation, toys, album covers, cartoons, symbols, treasured objects, memories, connections, home, comfort, and other seemingly unconnected things. I often incorporate unique references in regard to imagery, they range from the specific, to the purposeful, to the literal, to the completely ambiguous. I struggle with the notion that a lot of contemporary art consists of painting that appears like outsider art, but is not. I feel that my work somehow fits into this strange in-between category.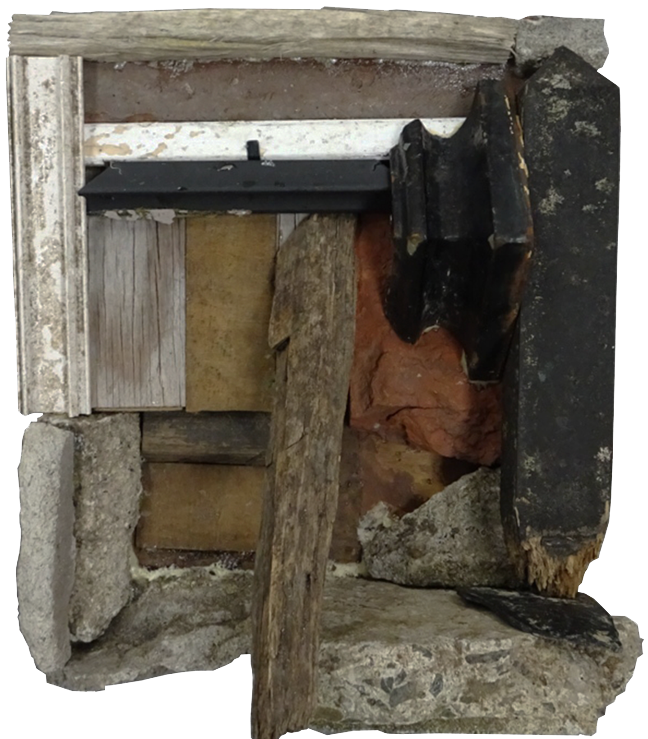 Coming From Picture Frames
, 2020
Wood, plastic, rock, grout, paper, iron, frame, brick collected and made in Providence.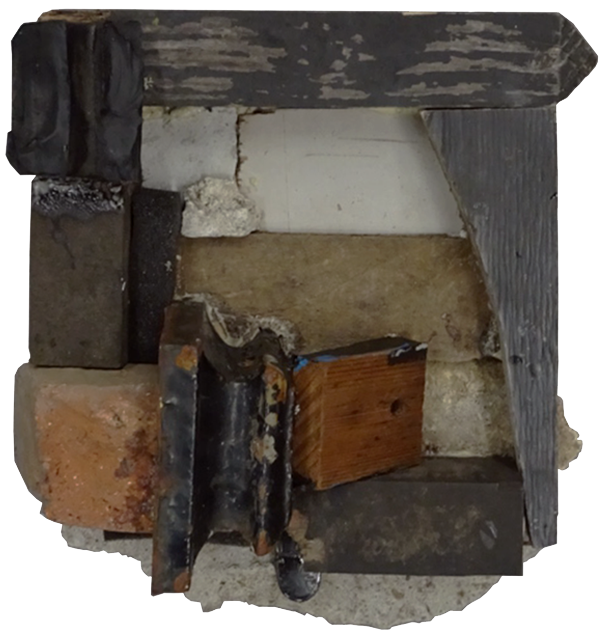 Small Houses can be Made for Larger People
, 2020
Wood, brick, iron, rock, rubber Collected and made in Providence
>> Matthew Cuschieri is an artist from New Jersey, currently living in Providence, Rhode Island. Matthew is a painting major at the Rhode Island School of Design, with an expected graduation date of June 2022. Currently, he is exploring unintrusive modes of making work; trying to become dissociated from the image-making process. Matthew is creating work using objects found in his surroundings. These materials and items then determine the corresponding work. Loss of ego in the work is informed by the materials used.
>> Imagining love through material puts emphasis on material history or material manipulation. In creating this work, an act of collection or love is needed to find material to exist together. Walking and finding and curating are acts of devotion to material. What happens when the material is found? It needs to be listened to! Organizing and arranging material can only occur through listening and understanding what I am working with. If a wood piece doesn't want to work with another wood piece it shouldn't be used together. Coexisting and working together to make a larger form are evidence of material 'interlove'.
💗💗💗💗💗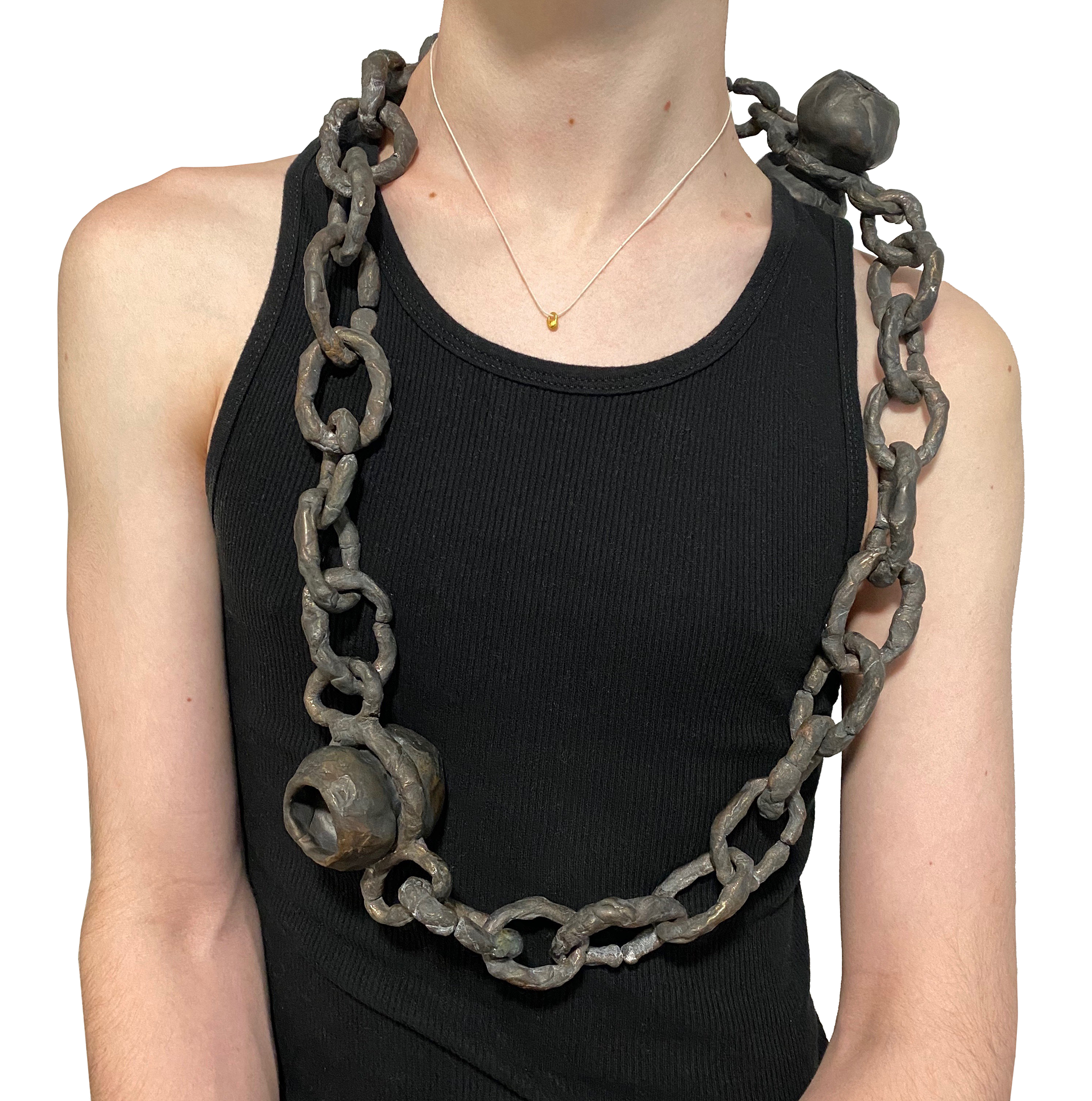 This four pound necklace suspends two hollow vessels on a cast bronze chain. The two vessels align on the wearers chest and back, alluding to the magnetic poles of the moon.
>> Tiger Rocha is a BFA Candidate in the Jewelry and Metalsmithing Department at Rhode Island School of Design. He works intuitively, exploring scale, texture, and form through the process of lost wax casting. He employs automatic drawing to reach his unconscious, which is then transformed into metal. Within his abstract drawings, the natural forms of branches and tunnel systems can be extracted. His exaggerated use of metal emphasizes the physicality of the material and makes the wearer conscious of gravity.
💗💗💗💗💗
Illogical Innocence
, 2019-2020 
Performance, video, zine, mix-media installation, novel
Illogical Innocence is a performative project about an autobiographical avatar of myself, which is composed by on-site and online performances, a tutorial video to be the avatar, a novel, as well as other supporting visual materials generated by DeepFake or taken by me. Living in Asia and immersing in the kawaii culture for years, the idol culture for me, has been a taken-for-granted existence. In this love-and-hate relationship, I was a fan, an idol wannabe, and a researcher at the same time. As I relocated to the United States, I found that all my life experiences within this Asian-specific industry were no longer transferable.Thus I created a persona who is a former idol, and made a series of materials including her Instagram account, music videos, daily snapshots on backstage. I use this persona to talk to random people on Tinder and compulsively throw questions about idol groups according to designated pattens, trying to provoke the potential understanding or pre-existing framework of Asian girls. I further archived the messages on Tinder and turned the FAQs as a tutorial titled How to be a Former Idol, to provide similar experience to the viewers.
>> Born in Guangzhou, Anlan Huang (Yasmine) is an artist and writer working and living as a digital nomad. She received her BA in Creative Media (Hons) and MA in Literary and Cultural Studies in Hong Kong. She is pursuing an MFA degree in Photography at Parsons School of Design. As an active observer, Yasmine gets her inspiration from poetry, philosophy, pop culture, and any forms of life experiences that haven't been articulated. She uses her own body to challenge the physical-virtual, factual-fictional dichotomies, to further reconstruct stories and reveal potential contradictions in the mainstream narrative.
>> Comparing to profit or capital, I believe LOVE is the core mechanism in the East Asian idol industry, which is the motif in all of my art of literary practice. It's highly constructed, but still, full of passion, obsessiveness, and excessiveness. In modern society, people didn't dare to speak out about love, but in the idol industry, this ecstasy is forgiven and allowed. In my first work, love on tinder towards a 'Japanese idol' might be driven by sexual desire or orientalist gaze towards Asian girls. In the second work, I discussed the relationship between stoicism and love: how girls in the idol industry sacrifice their personal love in exchange for fans' love? How did a girl grow up with her delicate love? The third work then is a reconstruction of the excessive/morbid/intensive love of fans, which is both horrifying and romantic.